☻ Selected for the 12th Brazilian Biennial of Graphic Design – ADG Brasil
☻ Selected for the 11th Macau Design Biennial



Cisma is an independent academic journal from São Paulo, Brazil, run by a staff of volunteer undergraduate students of Literature at the University of São Paulo. The journal publishes only translations and essays on literature written by undergraduates from universities throughout the country, in biannual issues available both online and in print. "Haroldo de Campos" is a special issue re-edited by the staff of Cisma of an original publication commissioned by the Pontifícia Universidade Católica de São Paulo in 1994. The issue is centered on the Brazilian poet and translator Haroldo de Campos, and comprises original texts on him by Jacques Derrida, Octávio Paz, Guillermo Cabrera Infante and João Cabral de Melo Neto. This new edition also brings a preface by Renan Nuernberger and an introduction by Diana Junkes Bueno, along with pastel illustrations by Victor Maia.

To quote Haroldo de Campos, "translating is similar to going from one a complex decoding to a new and complex coding", in this new edition words were inverted and printed over their original forms, as a way of translating into image the poet's ideas on the act of translation itself. The words therefore maintain their same direct meaning, but not their shape.

Jacket posters. Illustration: Haroldo de Campos, by Vitor Maia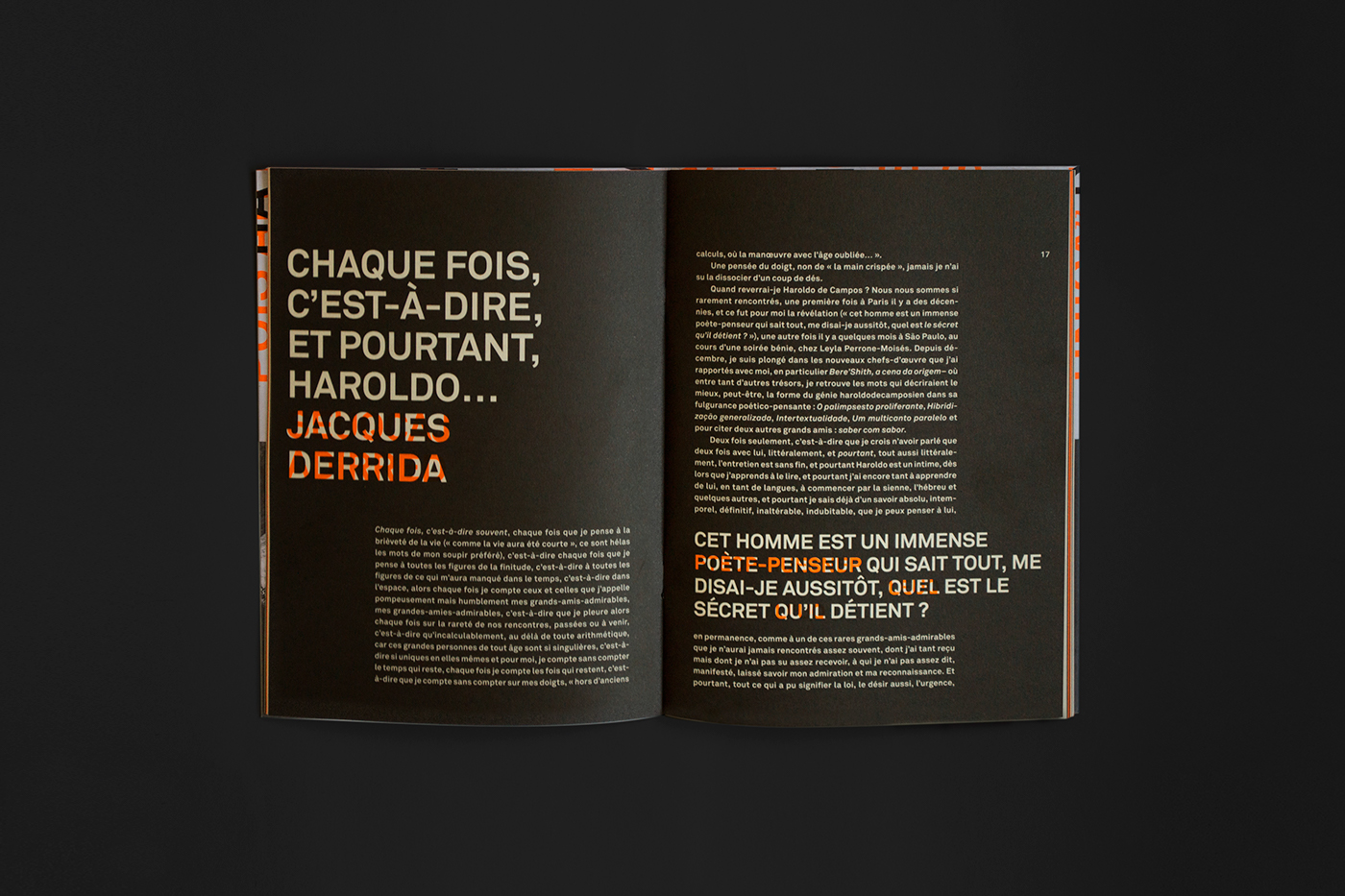 Graphic Design
Lucas Blat

Illustrations
Victor Maia

Contributors
Diana Junkes Bueno Martha
Eliana Teruel
Guilherme Tauil
Henrique Amaral
Renan Nuernberger

Proofreading
Caroline Micaelia
Clarissa Pereira
Giovana Bardi
Henrique Amaral
Isabela Benassi
Milena Varallo